Microsoft is due to release the next major update for Windows 10 in March or April. Rumor has it that the release, code-named Redstone 4, will be called the "Spring Creators Update," following in the tradition of the October 2017 Fall Creators Update and the April 2017 Creators Update before that.
We've been tracking the Insider Preview builds of Redstone 4 as they've rolled out. Here are the new features coming to Windows 10 this spring that enterprise users and IT should note.
(See page 2 of this story for key enterprise features in the Windows 10 Fall Creators Update.)
Pick up where you left off with Timeline
The much anticipated Timeline feature debuts with the spring release. It's part of the Task View tool and takes snapshots of your activities in various Windows apps over time — documents you were working on, web pages you visited, and so on. After a series of these snapshots have been archived by Timeline, you can click the Task View icon and scroll vertically back in time through thumbnails of these past activities, or use the search box to search for a specific activity. Click on any thumbnail, and the appropriate app and piece of content will be reopened.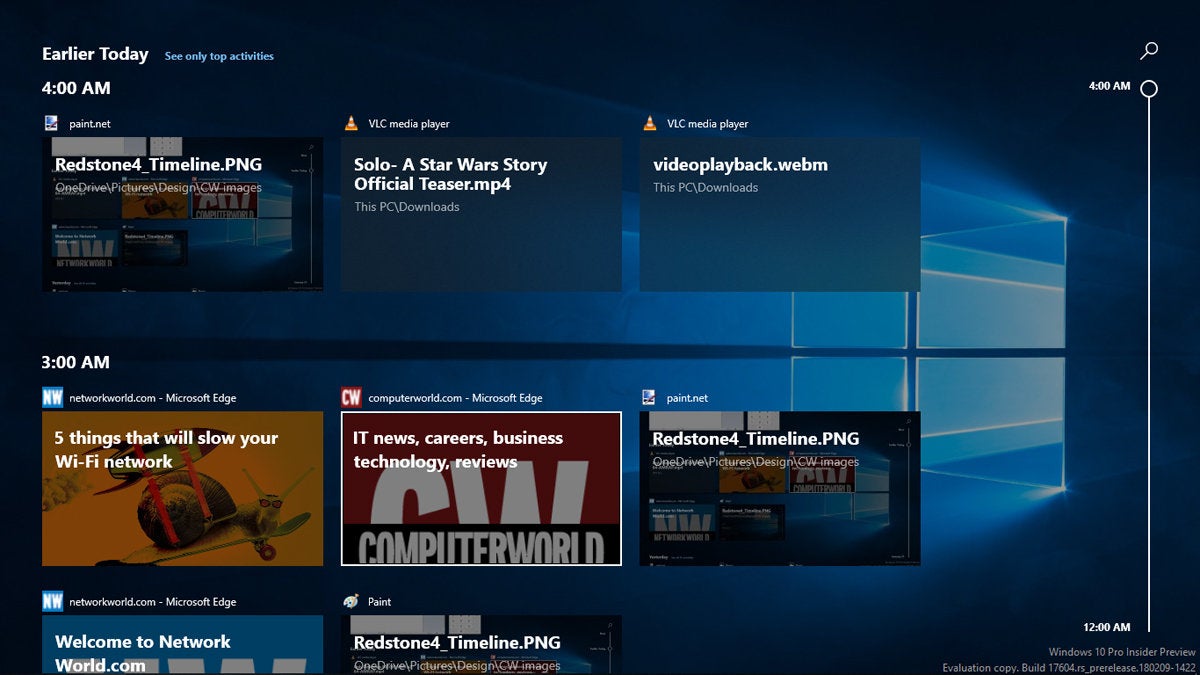 Using Timeline, you can open a snapshot to resume working on something where you left off. Even better, you can do this across different Windows 10 computers if you sign into them with your Microsoft online user account. You could start work on a document in the Word app using your home computer, and then resume writing it on your work computer at the office.
Be aware that Timeline only takes snapshots of Windows apps that have been designed to support it, such as the Edge browser and Microsoft Office apps. Microsoft is encouraging app developers to update their apps to support Timeline.